Maloof Money Cup | Case Study
For five years, Social Magnitude had the honor of managing every aspect of online marketing for the World's Greatest Skateboarding Event, the Maloof Money Cup.  The international competition had such a massive engagement in the action sports world, their online presence needed to match. Some of the accomplishments through the years included.
Domain rating of 50.
Top 10 Ranking for over 50 keywords.
Over 120K Social Media Fans.
9 Sold out events.
Over 1 Million YouTube views.
Overview
Our main goals with the Maloof money cup were to create an engaged following, promote yearly events and broadcast main events.  To do so, we created an online community for fans on the website, built an aggressive social media marketing campaign that made use of standard content, videos, and contests and maintained a  SEO strategy that used link-building, press releases and extended web engagement.  During events, we utilized targeted PPC campaigns and hosted live streaming events world-wide on both YouTube and MaloofMoneyCup.com. Through the years, the Maloof Money Cup held 9 sold out events with little advertising other than what was online.  Live streams of their events averaged over 35,000 concurrent views and over 1 million views in playback.  Their social following is well over 120k.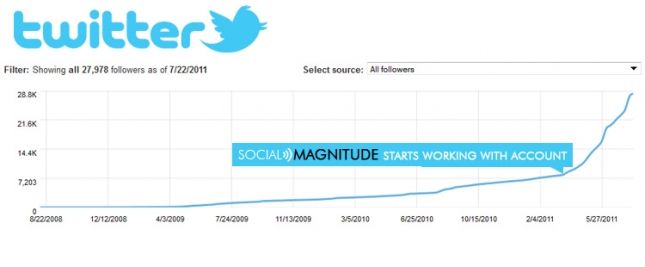 "Kelly of Social Magnitude did a great job with the multiple aspects of online marketing for several of our companies. Through their efforts, our companies she's worked with have been at the forefront of the latest internet developments and advertising methods."
Need more information? Contact Us Now: