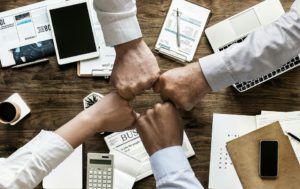 Advertising is one of the most adapt industries in the world. There are always changes, new inventions, and new ideas within the advertising industry, it's often difficult to keep up with. Nowadays, digital marketing is just as important as the product and service our businesses actually offer.
If your company does not have a high quality online presence and strategic digital marketing plan, it's going to be nearly impossible to compete with those that do. Here are a few digital marketing strategies that businesses should take advantage of if they want to improve their brand, grow their companies, and earn more revenue.
Pay Per Click
Pay per click is a form of search engine optimization that can give you a serious step up from your competition if done correctly. In pay per click advertising, your company's advertisement will be placed on a search engine results page (SERP), and every time a user clicks on that specific ad, you'll pay a sum of money to the host. It's a great way to stand out from your competitors and remain atop the SERPS, which is where all the traffic usually is.
Content Marketing
In today's online world, there are so many blogs, posts, online magazines, op-eds, and more that it can often feel like we live in an information overload. That's why, more than ever, it's important for the content that we actually produce to be of high quality. Content marketing generates about three times more leads than traditional outbound marketing and costs 62% less.
The content being created, however, can't just be pointless and uninteresting. People are not inherently stupid, so when our businesses post nonsense content just for the sake of posting content and getting their names out there, people will see right through that and quickly realize that particular business is full of it. That's why the content has to be even more compelling, even more engaging, and even more entertaining than ever before.
Social Media and Email Marketing
It's one thing to have quality content and PPC ads, but if that's not combined with actively engaged social media accounts and a strategic email marketing campaign, it's basically useless. The best way to standout online as a business is to excel in all facets of the online world, not just one or two. They all have to work together congruently to form a positive online presence.